We feel particularly good about this issue, for no easily definable reason — other than that the contents as a whole correspond to what we had in mind when putting together number one. You will notice our enthusiasm for the first and ninth stories on page one. One will make you think about the current torment over sexual harassment from a vantage other than the daily headlines about one man or another being brought to shame.  The other is to us the remarkable account of a young American woman coming to a new consciousness about her own country and the rest of the world. Both have importantly to do with the subject of change, which we have claimed as our own principal interest.  And which has equally claimed us as well.
Triumph and tragedy both have their place in our table of contents, which is perhaps as it should be. We again call your attention to page three, where the editors go to have a little fun — of which there can never be too much.
This number is the last of our first year, and thus requires some recognition for our having gotten this far, if not yet far enough. So too do our readers for making room for us in a world made far too busy by everything else. We don't yet feel we have hit our stride but neither do we feel we've gone too wrong.
Don West for
New Times Always!
Three blessings: Gentile, slave, or woman?
Narrative ■ We are witnessing in our time no less than the tip of a revolution between one half of humanity and the other. It is manifest for the moment under the key words sexual harassment but it goes far deeper than that. It has to do with the reality that women have in one way or another been subjugated to men in all of history and all parts of the world, that it was always a colossal error and can be tolerated no longer. Whether that will be the case is another matter. It is made most graphic and humbling for us by this Jewish prayer, recited for centuries before the current unrest by those who relied on divine intervention to be kept from falling into one, two or three of the most dreaded categories. Of all the change calling out to be made in an unjust world, this one may lead the rest.
Reprinted with permission from Jewish Ideas Daily.
The Jewish prayer book is thick with texts: blessings, thanksgivings, and petitions, instructions, theological claims, and historical memories. Some traditional texts bear especially outsized burdens. In this respect, few can rival three lines that begin "Blessed are you O God, King of the Universe, Who has not made me…" and conclude, respectively, "a goy [Gentile]," "a slave," and "a woman."
These three blessings, a standing provocation to all sorts of sensibilities, are at the center of a new book on the Jewish liturgy. Its author, Yoel Kahn, traces their history from antiquity down to the present, illuminating how they have been interpreted, revised, translated, excised, and, in varying ways, restored.
The three lines are embedded in a string of similarly-worded formulas that open the preliminary morning prayers known as birkhot ha-shahar or the "dawn blessings." Most of these thank God Who "gives the rooster understanding to distinguish day from night…gives sight to the blind…clothes the naked…raises those who are bent down," and so forth. They appear in the (Berakhot 60b) and, as presented there, are meant to be recited in private at home as one starts the day: awaking, opening one's eyes, dressing, standing upright, and so on. Today we might call them an exercise in mindfulness, aligning our consciousness with the acts that knit together our daily routines and, as Kahn points out, heightening our awareness of God's hand at work in the world.
Where Do They Originate?
The three blessings in particular seem to have originated outside Jewish circles. From the third century B.C.E., we find written record of a quip, ostensibly attributed to Socrates, that expresses gratitude for having been born human and not a brute, a man and not a woman, Greek and not barbarian. An analogous one-liner circulated in Zoroastrian circles. The Jewish formula, a version of which first appears at about 200 C.E., was unconnected with the dawn blessings and was recorded in a different tractate of the Talmud (Menahot 43b).
That changed during the centuries known as the Geonic period, when the great yeshivas of Babylonia emerged as the leading institutions of Jewish learning. The first text featuring both sets of blessings is the Sefer Halakhot Gedolot ("Book of Major Laws"), circa 750-825, and soon thereafter they were amalgamated into a single set. Although the details of the liturgy remained in flux for centuries, by the early Middle Ages the basic text had stabilized into what we know today: the full complement of blessings, recited not at home but in the synagogue.
In the 13th century, the Church, for reasons of its own, began to take a vigorous interest in the contents of Jewish prayers. As, with time, the Inquisition expanded its writ and printing enhanced the reach of the censor, Jews began to insert an "explanatory note" to the effect that mention of Gentiles anywhere in the siddur referred not to Christians but to proper heathens. When it came specifically to the goy of the dawn blessings, Jews also took positive action to alter the text: either substituting a euphemism (like "Samarian"), employing the affirmative statement, "Who has made me a Jew," or skipping the line entirely. Sometimes the same scribe would have recourse to all three. But while the Church may have succeeded at times in driving the word into the shadows, it may also have inspired its preservation. Kahn: "If the effect of censorship and expurgation was to muzzle Jewish religious speech, this blessing was an act of spiritual resistance and identity-formation that reasserted the superiority of the Jews over the Gentile oppressors."
The "slave" blessing was problematic for another reason. The Hebrew word eved means not only slave but also servant and, more to the point, serf—which is just what many Jews in medieval Europe were. Some therefore eliminated the blessing altogether, some embellished it (as in: "Who did not make me a slave to humans"), and some replaced the troublesome word with "boor" or "beast."
What about "Who has not made me a woman"? The first real alternative phrasing for women at prayer was "Who has made me according to His will," which appears early in the 14th century in the authoritative code of Jacob bar Asher. It seems to have been intended as an expression more of acceptance than of empowerment, though it also testifies to the engagement of women in the religious life of the time. In southern Europe in the 14th-15th centuries, women using the Judeo-Provençal vernacular adopted a more assertive stance, intoning "Who did not make me a man" or "Who made me a woman."
There were also internal, Jewish critics of the dawn blessings who were troubled not by any anti-Gentile content but by the danger of the formulas' becoming so ritualized as to be detached from lived experience. Two such critics were Maimonides and his son, the Judeo-Sufi pietist Abraham Maimuni. They were joined by the Franco-German pietists known as Hasidei Ashkenaz, whose richly mythic worldview otherwise differed greatly from Maimonides' rationalism. By contrast, the later kabbalists saw good reason for ritualizing the blessings: after all, they sustained the social and, implicitly, the cosmic order, both of which were threatened in the nighttime when the spirits of darkness were afoot and the unconscious soul experienced the whiff of death.
The Standardizing of Jewish Texts
Meanwhile, the advent of printing standardized the texts of these and other prayers like never before. But then, starting in the 18th century, once emancipation came around, the three blessings became problematic again—not only because of Christian sensitivities but because of the Jews' own aspirations to merge their particularity with the values of the broader society. "Not surprisingly," Kahn observes, "not a single 19th-century European liberal prayer book includes 'did not make me a Gentile' in Hebrew." Even unimpeachably Orthodox figures changed the wording from goy to nokhri (foreigner), a term shorn of the negative connotations accrued by the former word over the centuries.
In America, liturgists were freer still. By 1872, almost a decade after slavery had been abolished in the nation, "Who did not make me a slave" was gone from Reform prayer books, to be followed by the removal of the other blessings from the 1895 edition of the Union Prayer Book. Proto-Conservative siddurim like Avodat Yisrael of 1873 replaced the three blessings with one: "Who made me an Israelite." The leading modern-Orthodox siddur of the 20th century, by Joseph Hertz, substituted nokhri for goy and added an elaborate apologetic commentary: "He who would serve humanity must first of all to himself be true." As for "Who has not made a woman," it was glossed as "Who has set upon me the obligations of a man," while the corresponding blessing recited by a woman thanked God for allowing her "to win hearts for Thee by motherly or wifely devotion."
The Blessings Today
And today? Unfortunately, Kahn does not investigate the work of Israeli liturgists of various denominations. He does, however, attend to the further evolution of Reform and Conservative prayer books—and, pointedly, to the Artscroll phenomenon, in which everything old has become new again. (The Art scroll siddur contains the three blessings in unadulterated form, asserting unapologetically that it "assigns missions to respective groups of people.")
Toward the end of his study, Kahn also offers interesting reflections on his experience in his own synagogue in San Francisco, a gay community that has proved more than willing to re-engage traditional liturgies from its perspective of theological agnosticism and commitment to inclusion: "Who has led me to my Jewish heritage…Who has made each of us unique, and all of us according to Your will." Today's non-halakhic communities, he notes, perhaps because they are more distanced from the old texts and the forms of authority that accompanied them, are more eager than their immediate forebears both to appreciate those texts and to experiment with them.
The world in which the ancient prayers emerged was one in which clear social boundaries and correspondingly well-defined roles were a value and an end in themselves, however imperfectly realized in practice. Today, the category of slave has been discarded with a moral vehemence that can only be termed religious, and that was nourished in no small measure by both Scripture and the historical experience of Jewish suffering. The second two categories, distinguishing between man and woman, Jew and Gentile, are still with us but in a continual process of redefinition that shifts once-fixed expectations, rights, and responsibilities by seeking to minimize friction and maximize the reach of human freedom.
Can God ground and guide these explorations as He once guaranteed those boundaries? That would be blessing indeed.
Who is Doug Jones?
Narrative ■ Who is Doug Jones? Washington and the nation are about to find out, and he has already emerged from political obscurity in a way to confound the skeptics, reassure those who had long lost hope and give example not only to those who believed in him but in far greater possibilities once his voice is heard and his vote felt in a divided Congress. If a Mr. Smith were meant to come again to Washington, he couldn't have shown up in a better presence than in this Mr. Jones.
MONTGOMERY — Doug Jones special election victory over Roy Moore marks the first time Alabama has elected a Democrat to the Senate in 25 years. 
But who is Jones?
Here's a primer on the newly elected Democratic Senator:
University of Alabama alum
One day in 1973, Doug Jones was in a cotton tie mill in Fairfield's steel works, where red-bithot steel billets 10 feet long would "go through this press that would reduce it down to metal that would be real thin metal that would tie up bales of cotton,"Jones had just finished his first year at the University of Alabama. His grades, he recalled in a recent interview, "weren't that great" and his father, a longtime company veteran, decided his son "needed some incentive to work harder."
So Jones worked six days a week, 10 hours a day at the mill, performing different jobs. On this day, the teenager helped collect scrap metal to go into a machine known as a scrap baller, which turned the excess into balls for salvage. As Jones and a co-worker fed the machine, it got stuck.
More: Twitter thanks #BlackWomen for voting for Democrat Doug Jones in Alabama
"You've got these big old hooks you're supposed to use," Jones said in a recent interview. "Well, the other old guy who was using it was not using the hook, so I didn't use the hook either. I yanked on that big old ball of scrap when I did, and a piece of metal sprung up and hit me right between the eyes."
Jones got away with a bleeding wound. It could have been worse.
"If it had been left or right in any eye, I know I would have lost an eye and it would have done serious damage and probably killed me," he said. "It hit in the right spot, because I'm hard-headed as hell anyway."
Jones graduated from the University of Alabama in 1976; his accident in the steel mill, he said, spurred him to improve his grades. At Alabama, he served in the Student Senate and as president of the Off-Campus Association; he also worked in the office of then-Lt. Gov. Jere Beasley. He later attended the Cumberland School of Law, stealing away from his classes in 1977 to watch then-Alabama Attorney General Bill Baxley wage his successful prosecution of Bob Chambliss for the bombing of the 16th Street Baptist Church in 1963.
Read more at USA Today.
Trump's hour by hour battle for self preservation
Narrative ■ I think the mainstream media may have begun to go soft on Donald Trump, taking into account this New York Times piece on how hard he is working at self-preservation, as opposed to his customary posture of destruction of all within sight or tweet. Either that, or The Great Manipulator who capitulated himself from reality stardom to being the leader of the free world is about to do it again, persuading the base who thought he would save them into buying his latest economic kool-aid, and crippling health care in the bargain.
WASHINGTON — Around 5:30 each morning, President Trump wakes and tunes into the television in the White House's master bedroom. He flips to CNN for news, moves to "Fox & Friends" for comfort and messaging ideas, and sometimes watches MSNBC's "Morning Joe" because, friends suspect, it fires him up for the day.
Energized, infuriated — often a gumbo of both — Mr. Trump grabs his iPhone. Sometimes he tweets while propped on his pillow, according to aides. Other times he tweets from the den next door, watching another television. Less frequently, he makes his way up the hall to the ornate Treaty Room, sometimes dressed for the day, sometimes still in night clothes, where he begins his official and unofficial calls.
As he ends his first year in office, Mr. Trump is redefining what it means to be president. He sees the highest office in the land much as he did the night of his stunning victory over Hillary Clinton — as a prize he must fight to protect every waking moment, and Twitter is his Excalibur. Despite all his bluster, he views himself less as a titan dominating the world stage than a maligned outsider engaged in a struggle to be taken seriously, according to interviews with 60 advisers, associates, friends and members of Congress.
For other presidents, every day is a test of how to lead a country, not just a faction, balancing competing interests. For Mr. Trump, every day is an hour-by-hour battle for self-preservation. He still relitigates last year's election, convinced that the investigation by Robert S. Mueller III, the special counsel, into Russia's interference is a plot to delegitimize him. Color-coded maps highlighting the counties he won were hung on the White House walls.
Before taking office, Mr. Trump told top aides to think of each presidential day as an episode in a television show in which he vanquishes rivals. People close to him estimate that Mr. Trump spends at least four hours a day, and sometimes as much as twice that, in front of a television, sometimes with the volume muted, marinating in the no-holds-barred wars of cable news and eager to fire back.
"He feels like there's an effort to undermine his election and that collusion allegations are unfounded," said Senator Lindsey Graham, a Republican from South Carolina who has spent more time with the president than most lawmakers. "He believes passionately that the liberal left and the media are out to destroy him. The way he got here is fighting back and counterpunching."
Read more at The New York Times.
The three ultra-rich families battling for Republican party
Narrative ■ That hasn't kept the ultra-rich from their own intent to control the political process after collecting all the economic chips from Congress and the president in their latest assault on economic inequity. Armed primarily by the Citizens United decision of the Supreme Court that makes a mockery of democracy, they are out to buy every politician they can with all the extra cash they'll take away from a 46% corporate tax cut for all time.
This week, the House and Senate will work to reconcile their different versions of the tax bill into something that president Donald Trump can sign into law. As they do, dozens of protests and rallies against the bill are being planned from California to Chicago to Staten Island, New York. Citizens are frantically organizing to try to shut down the only major legislative success of a president who ran on a platform of populism, and Democrats are growing optimistic about flipping one or both houses of Congress. How did the country get here just a year after Donald Trump's historic win?
To understand that, you need to look back to the "Citizens United" Supreme Court decision in 2010, which opened the floodgates for wealthy donors in political races. Since then, corporations and the rich have plowed money into both parties. Three extremely wealthy families, the Mercers, the Kochs, and the Adelsons, all prominent donors to the Republican party, now seem locked in a struggle over the future of the GOP.
As campaigning for the midterm elections in November 2018 gets under way, the three families are facing off against each other in battleground states. They're lighting a fire under Republican politicians who are now determined to get something, anything, passed in Washington—even if it's a last-minute tax bill that most voters don't agree with and legislators barely had time to read.
But Republicans who fail to pass tax reform risk losing donor support, and getting wiped out by a rival Republican candidate. As Lindsay Graham, the veteran Republican senator from South Carolina, told an NBC news reporter early last month, a failed tax reform will look a lot like a failed party.
Read more at Quartz.
Russia harvested American rage to reshape U.S. politics
Narrative ■ "This is cultural hacking" in the opinion of one observer tracking how the Russians are playing back edited social media outtakes in a way to make the entire society look bad. "They're feeding outrage -- and it's easy to do, as outrage and emotion are how people share." And it's working, to America's increasing disadvantage.
YouTube videos of police beatings on American streets. A widely circulated internet hoax about Muslim men in Michigan collecting welfare for multiple wives. A local news story about two veterans brutally mugged on a freezing winter night.
All of these were recorded, posted or written by Americans. Yet all ended up becoming grist for a network of Facebook pages linked to a shadowy Russian company that has carried out propaganda campaigns for the Kremlin, and which is now believed to be at the center of a far-reaching Russian program to influence the 2016 presidential election.
A New York Times examination of hundreds of those posts shows that one of the most powerful weapons that Russian agents used to reshape American politics was the anger, passion and misinformation that real Americans were broadcasting across social media platforms.
The Russian pages — with names like "Being Patriotic," "Secured Borders" and "Blacktivist" — cribbed complaints about federal agents from one conservative website, and a gauzy article about a veteran who became an entrepreneur from People magazine. They took descriptions and videos of police beatings from genuine YouTube and Facebook accounts and reposted them, sometimes lightly edited for maximum effect.
Other posts on the Russian pages used stilted language or phrases rarely found in American English. Yet their use of borrowed ideas and arguments from Americans, which were already resonating among conservatives and liberals, demonstrated a deft understanding of the political terrain. The Russians also paid Facebook to promote their posts in the feeds of American Facebook users, helping them test what content would circulate most widely, and among which audiences.
"This is cultural hacking," said Jonathan Albright, research director at Columbia University's Tow Center for Digital Journalism. "They are using systems that were already set up by these platforms to increase engagement. They're feeding outrage — and it's easy to do, because outrage and emotion is how people share."
Read more at The New York Times.
Ryan Zinke Is Trump's attack dog on the environment
Narrative ■ Heaven help the wilderness and the environment might well be the reaction to President Trump's putting hallowed ground up for sale and Ryan Zinke in charge of the Interior Department. As he puts it succinctly: "The government stops at the mailbox, and if you come any further, you're going to meet my gun."
At the outlet of Glacier National Park's Lake McDonald, a lonely dock stretches into glassy water over kaleidoscopic gravels, framed by the reflection of fearsome mountains.
The lake is only a few steps from a major parking lot, so it draws legions of tourists. It is not, however, the place to find cutthroat trout in late June.
I'd been trying for over a month to set up an out­ing with Ryan Zinke, the freshly minted secretary of the interior, who was born and raised in nearby Whitefish, Montana. I'd already met him once, at Alaska's Denali National Park, but his harried schedule didn't allow for anything more than a cursory walk on a trail that might as well have been paved. I wanted to see my former congressman, who has always billed himself as an outdoorsman—and who now oversees more than 400 million acres of federal public land, 700 million acres of subsurface mineral rights, and thousands of offshore energy leases—in his natural habitat. In Denali last May, I'd floated plans to take horses into Montana's Bob Marshall Wilderness, but in the end all I could wrangle was this 45 minutes of casting practice.
Zinke's crew of aides and security people were assembled under shade trees by the shore. The secretary was wearing a tan fishing vest, slacks, and a pair of Keens. Absent his entourage, he might have passed for anyone's unusually fit uncle: his hair has gone gray, but at 56 the former Navy SEAL still holds his tall frame plank-straight, and his shoulders are broad and athletic. He already had his rod rigged. As soon as I walked up, I checked out the fly hooked to one of his guides—a black foam-bodied number with a puffy white wing and rubber legs, segmented with purple dubbing.
"You've got a Chubby on," I said. Zinke looked at me, then down at the zipper on his pants. "Your fly," I said. "It's called a Chubby Chernobyl." Zinke laughed. "We killed them on the Middle Fork with this one last summer," he said.
This outing happened just a few weeks after then Republican congressional candidate Greg Gianforte body-slammed a Guardian reporter the night before a special election to fill Zinke's vacated seat. Zinke had flown to Montana to stump for Gianforte, a Montanan by way of New Jersey who sold his Bozeman-based tech company to Oracle in 2009 for nearly $1 billion and had just lost the governor's race despite spending $5 million of his own money. At the campaign rally in Billings, Zinke warmed up the crowd for the headliner, Vice President Mike Pence.
"You should not be afraid to say that you're a Christian," Zinke said, "and you should not be afraid to say, 'The government stops at the mailbox, and if you come any further, you're going to meet my gun.' "
The National Rifle Association loves Zinke. Chris Cox, the executive director of the group's Institute for Legislative Action, has said that Zinke's nomination marked "the end of a hostile era towards hunters and sportsmen." But it wasn't always so. As a state senator, freshly retired from the Navy, Zinke said that .50-caliber rifles were too dangerous for ordinary citizens to own. "He felt very strongly about that then," Gary Marbut, president of the Montana Shooting Sports Association, wrote on his blog. "Then, about the time he announced his candidacy for the U.S. House, he sent me a card saying he'd changed his position on .50-caliber rifles. Yes, a sudden election season conversion."
Zinke's moderate-by-Montana-­standards position on guns and a handful of other issues, including climate change, annoyed the right wing of the state's Republican Party. That Zinke was a fifth-generation native son, had been a starter on the University of Oregon's football team, and had served two tours in Iraq with the SEALs somehow made things worse: here was a Republican who didn't need to swagger around Helena behind the wheel of a lifted dualie. Zinke drove a Toyota Prius, which, outside liberal havens like Bozeman, Missoula, and Helena, is the vehicular way of saying "I'm from California, I'm a communist, and I love wolves."
Read more at Outside.
Why are America's farmers killing themselves?
Narrative ■ There should be black bunting to accompany this story. It is the 21st century American tragedy of farmers killing themselves in record numbers -- perhaps five times higher than the general population -- in hopelessness despite a land of plenty. The situation may be even worse worldwide.
It is dark in the workshop, but what light there is streams in patches through the windows. Cobwebs coat the wrenches, the cans of spray paint and the rungs of an old wooden chair where Matt Peters used to sit. A stereo plays country music, left on by the renter who now uses the shop.
"It smells so good in here," I say. "Like …"
"Men, working," finishes Ginnie Peters.
We inhale. "Yes."
Ginnie pauses at the desk where she found her husband Matt's letter on the night he died.
"My dearest love," it began, and continued for pages. "I have torment in my head."
On the morning of his last day, 12 May 2011, Matt stood in the kitchen of their farmhouse.
"I can't think," he told Ginnie. "I feel paralyzed."
It was planting season, and stress was high. Matt worried about the weather and worked around the clock to get his crop in the ground on time. He hadn't slept in three nights and was struggling to make decisions.
"I remember thinking 'I wish I could pick you up and put you in the car like you do with a child,'" Ginnie says. "And then I remember thinking … and take you where? Who can help me with this? I felt so alone."
Ginnie felt an "oppressive sense of dread" that intensified as the day wore on. At dinnertime, his truck was gone and Matt wasn't answering his phone. It was dark when she found the letter. "I just knew," Ginnie says. She called 911 immediately, but by the time the authorities located his truck, Matt had taken his life.
Read more at The Guardian.
Facebook's 2016 blueprint to divide us
Narrative ■ How Facebook's 2016 election team either crunched the numbers or stacked them in portraying the American audience into a number of segments that could be used by advertisers to fragment the nation even further.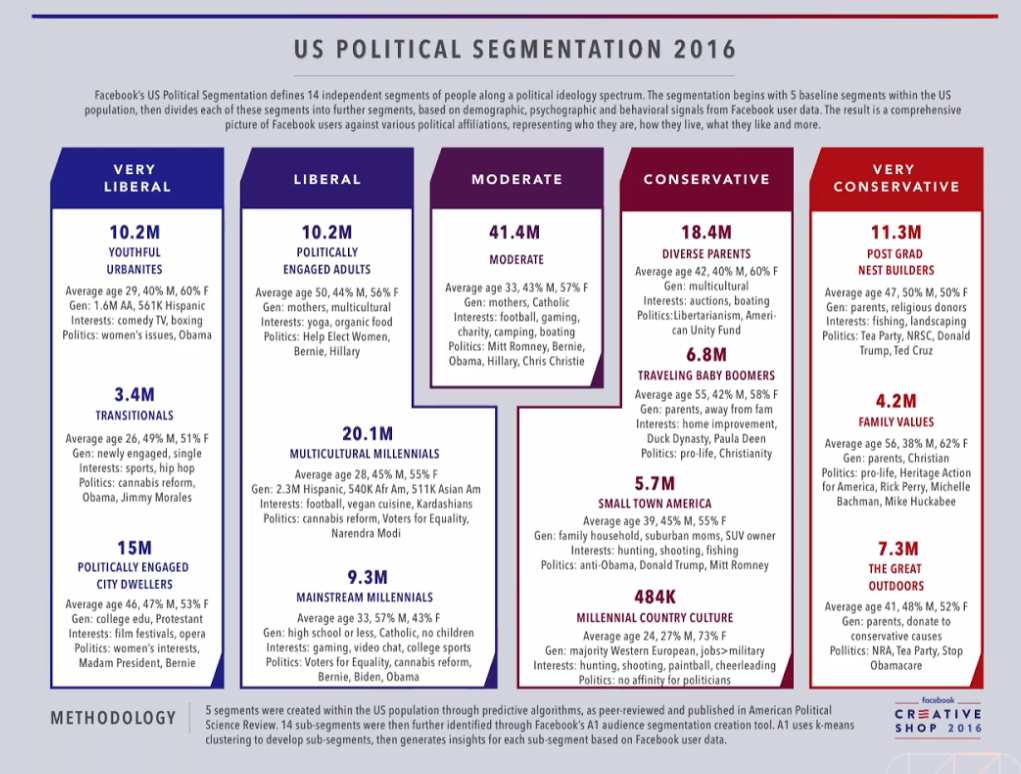 During the 2016 election season, Facebook provided political advertisers with a targetable breakdown of a fractured United States, which could've been used as a blueprint for exploiting the country's divisions.
According to a political advertising sales pitch obtained by BuzzFeed News, Facebook carved the US electorate into 14 segments — from left-leaning "youthful urbanites" to a pro-NRA, pro–Tea Party group it bizarrely labeled as "the great outdoors." It detailed their demographic information — including religion and race in some cases — and offered them to political advertisers via Facebook's sales teams. For advertisers using Facebook's self-serve platform, the segments could be reached by purchasing larger bundles ranging from "very liberal" to "very conservative."
The "very liberal" bundle included an estimated audience of 28.6 million people broken down into three groups — "youthful urbanites," "transitionals," and "politically engaged city dwellers." The "very conservative" bundle included an estimated audience of 22.8 million people broken down into three groups — "post grad nest builders," "family values," and "the great outdoors."
"We typically help marketers across all verticals understand audiences this way, and we briefly used this framework to help inform how a small number of marketers built their campaigns," a Facebook spokesperson told BuzzFeed News, adding the pitch had been removed as part of a "regular refresh." Said the spokesperson, "these segments are no longer available."
A senior Democratic operative who's run extensive digital political campaigns suggested political targeting options of the sort Facebook offered might be particularly intriguing to people looking to sow discord in the political system. "Any legitimate, aboveboard organization that is trying to actually win an election is going to have a much higher set of standards," the operative told BuzzFeed News. "This type of approach is almost exclusively designed for nonpolitical professional people who want to mix it up," or cause chaos.
Campaigns looking to win elections, the operative said, would likely target more sophisticated, granular segments built using voter file and email data. But to those without access to proprietary data, the targeting options Facebook detailed in its pitch could be appealing.
"Small town America," one of the segments, was made up of 5.7 million people who were "anti-Obama," for instance. A bad actor looking to sow division in the country might use such information to create ads exploiting some people's disdain for the then-president.
A person familiar with the Trump campaign's Facebook operation told BuzzFeed News the campaign used some the company's broader targeted categories — such as "conservative" or "very conservative" — during the US 2016 presidential primary in an effort to spread Trump's message wide and take advantage of cheaper ad rates. The Trump campaign went on to use microtargeting on a more specific basis than Facebook's categories allowed for during the general election.
Read more at BuzzFeedNews.
Unlearning the myth of American innocence
Narrative ■ The most important thing we can say about this story is that it is the second most important of the articles in this number of New Times Always. (The first is the Jewish prayer that leads this page.) Could we implore all readers to follow it from first word to last, and then perhaps to read Suzy Hansen's book (Notes on a Foreign Country: An American Abroad in a Post-American World) , we would do so. It is an unveiling of a young person's consciousness in much the same way as you peel an onion; from the outside in. Whatever your perceptions going in, they will have changed coming out.
My mother recently found piles of my notebooks from when I was a small child that were filled with plans for my future. I was very ambitious. I wrote out what I would do at every age: when I would get married and when I would have kids and when I would open a dance studio.
When I left my small hometown for college, this sort of planning stopped. The experience of going to a radically new place, as college was to me, upended my sense of the world and its possibilities. The same thing happened when I moved to New York after college, and a few years later when I moved to Istanbul. All change is dramatic for provincial people. But the last move was the hardest. In Turkey, the upheaval was far more unsettling: after a while, I began to feel that the entire foundation of my consciousness was a lie.
For all their patriotism, Americans rarely think about how their national identities relate to their personal ones. This indifference is particular to the psychology of white Americans and has a history unique to the US. In recent years, however, this national identity has become more difficult to ignore. Americans can no longer travel in foreign countries without noticing the strange weight we carry with us. In these years after the wars in Iraq and Afghanistan, and the many wars that followed, it has become more difficult to gallivant across the world absorbing its wisdom and resources for one's own personal use. Americans abroad now do not have the same swagger, the easy, enormous smiles. You no longer want to speak so loud. There is always the vague risk of breaking something.
Some years after I moved to Istanbul, I bought a notebook, and unlike that confident child, I wrote down not plans but a question: who do we become if we don't become Americans? If we discover that our identity as we understood it had been a myth? I asked it because my years as an American abroad in the 21st century were not a joyous romp of self-discovery and romance. Mine were more of a shattering and a shame, and even now, I still don't know myself.
---
I grew up in Wall, a town located by the Jersey Shore, two hours' drive from New York. Much of it was a landscape of concrete and parking lots, plastic signs and Dunkin' Donuts. There was no centre, no Main Street, as there was in most of the pleasant beach towns nearby, no tiny old movie theatre or architecture suggesting some sort of history or memory.
Most of my friends' parents were teachers, nurses, cops or electricians, except for the rare father who worked in "the City", and a handful of Italian families who did less legal things. My parents were descendants of working-class Danish, Italian and Irish immigrants who had little memory of their European origins, and my extended family ran an inexpensive public golf course, where I worked as a hot-dog girl in the summers. The politics I heard about as a kid had to do with taxes and immigrants, and not much else. Bill Clinton was not popular in my house. (In 2016, most of Wall voted Trump.)
We were all patriotic, but I can't even conceive of what else we could have been, because our entire experience was domestic, interior, American. We went to church on Sundays, until church time was usurped by soccer games. I don't remember a strong sense of civic engagement. Instead I had the feeling that people could take things from you if you didn't stay vigilant. Our goals remained local: homecoming queen, state champs, a scholarship to Trenton State, barbecues in the backyard. The lone Asian kid in our class studied hard and went to Berkeley; the Indian went to Yale. Black people never came to Wall. The world was white, Christian; the world was us.
We did not study world maps, because international geography, as a subject, had been phased out of many state curriculums long before. There was no sense of the US being one country on a planet of many countries. Even the Soviet Union seemed something more like the Death Star – flying overhead, ready to laser us to smithereens – than a country with people in it.
Read more at The Guardian.
Don West for New Times Always!
Don West for
New Times Always!