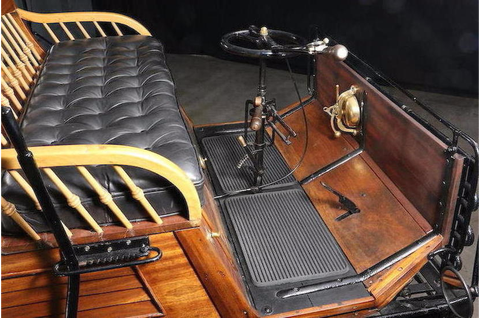 When you hear the phrase "classic car," what comes to mind? A 1950s Ferrari? An '80s Porsche? Well, compared to this car, those might as well be spaceships.
This is a 1894 Santler 3½-horsepower Dogcart. According to Bonhams, it's the oldest surviving British car in existence at 123 years old. It's coming up for sale next month at the auctioneer's London to Brighton sale, and you should buy it.
Constructed in the late 1890s by brothers Charles and Walter Santler, this Dogcart was originally steam-powered, but was fitted with a single-cylinder, water-cooled Benz engine during a restoration in the 1950s.
The car is in running condition, and is equipped with a belt-driven transmission, and chain drive to the rear wheels. It has a foot-operated brake that works only on the driver's side rear wheel, plus hand-operated brakes that slow both rear wheels. The wheels measure 28 inches up front, and 40 inches in the rear.
Bonhams estimates the car will sell for between $260,000 and $330,000 on November 3rd. If you want to own a seriously classic car, it doesn't get much more classic than this.
From Road and Track