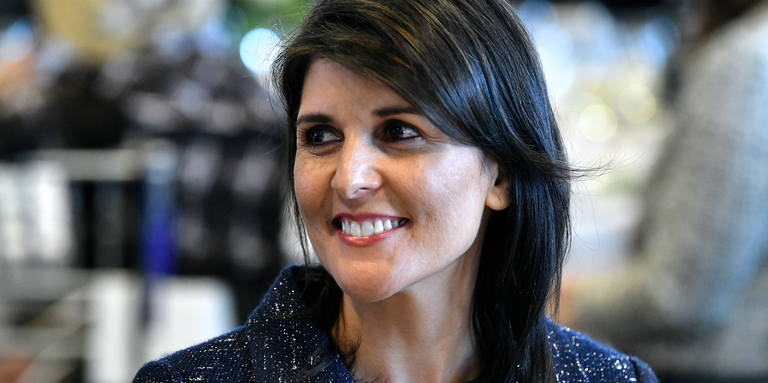 mbassador Nikki Haley has the tricky job of being the diplomatic face of an administration whose foreign policy is often set in motion by a president who tweets his thoughts to the world before most of us have even had our morning coffee. Suffice it to say, any given day can be quite a wild ride.
But rather than smoothing things over behind the scenes, Haley has been more visible and vocal than ambassadors past. She's publicly disagreed with her boss, Donald Trump; successfully lobbied for tougher U.N. sanctions against North Korea; and had fiery words for Russia, calling the Kremlin's election meddling "warfare" and saying the country "is not, will not, be our friend."
Perhaps none of that should come as a surprise, since Haley has made a career out of being different. She was the first female governor of South Carolina and the second Indian-American to serve as governor of any state—and she's widely expected to run for president someday.
In an interview conducted in her office on International Women's Day, Haley discussed the challenges facing female politicians, her response to all those presidential tweetstorms, and what she thinks of potentially being the first female president.
Marie Claire: What hurdles must women overcome to reach the highest levels of government, like you?
Nikki Haley: It's hard for anyone to be in politics. Politics is not easy. The challenges women face from what I have seen is just having the strength to believe in themselves. Men tend to just do things, while women second guess themselves a lot, so what I wish for every woman is that they stop second guessing and trust their gut from the very beginning because it's always right. Women in every arena, but also in politics, need to trust their decisions.
MC: Twice in your career, people have alleged you were having extramarital affairs; how did you deal?
NH: It's a sad thing. What I've found is if you do your job well and if you get attention for doing your job well, people are going to want to bring you down. They do that to men; they do that to women. The difference is, with women, they immediately go not to something credible, but to the one thing that weakens them immediately. They throw out an affair allegation or something that implies something like that. When that happens, stand strong. Be proud and call them out because they don't get the right to do that.
I laugh at it because it doesn't mean anything—you expect it. But it bothers me more for my daughter and for girls growing up—that shouldn't be the thing they are worried about, that if they get too loud or too good that they are going to have to face criticism.
Read more at Marie Claire.