Are you ready to consider capitalism as the problem?
Narrative ■ You may be as surprised as was House Minority Leader Nancy Pelosi when asked whether the Democratic Party might want to embrace a challenge to capitalism. But there may be increasing reason to take the subject seriously. A Harvard University study found that 57% of Americans between the ages of 18 and 29 no longer support a system of capitalism. Another poll in Great Britain found 64% thing capitalism is unfair. And its said that three-quarters believe big business is basically corrupt.
In February, college sophomore Trevor Hill stood up during a televised town hall meeting in New York and posed a simple question to Nancy Pelosi, the leader of the Democrats in the House of Representatives. He cited a study by Harvard University showing that 51% of Americans between the ages of 18 and 29 no longer support the system of capitalism, and asked whether the Democrats could embrace this fast-changing reality and stake out a clearer contrast to right-wing economics.
Pelosi was visibly taken aback. "I thank you for your question," she said, "but I'm sorry to say we're capitalists, and that's just the way it is."
The footage went viral. It was powerful because of the clear contrast it set up. Trevor Hill is no hardened left-winger. He's just your average millennial—bright, informed, curious about the world, and eager to imagine a better one. But Pelosi, a figurehead of establishment politics, refused to–or was just unable to–entertain his challenge to the status quo.
It's not only young voters who feel this way. A YouGov poll in 2015 found that 64% of Britons believe that capitalism is unfair, that it makes inequality worse. Even in the U.S., it's as high as 55%. In Germany, a solid 77% are skeptical of capitalism. Meanwhile, a full three-quarters of people in major capitalist economies believe that big businesses are basically corrupt.
Why do people feel this way? Probably not because they deny the abundant material benefits of modern life that many are able to enjoy. Or because they want to travel back in time and live in the U.S.S.R. It's because they realize—either consciously or at some gut level—that there's something fundamentally flawed about a system that has a prime directive to churn nature and humans into capital, and do it more and more each year, regardless of the costs to human well-being and to the environment we depend on.
Because let's be clear: That's what capitalism is, at its root. That is the sum total of the plan. We can see this embodied in the imperative to grow GDP, everywhere, year on year, at a compound rate, even though we know that GDP growth, on its own, does nothing to reduce poverty or to make people happier or healthier. Global GDP has grown 630% since 1980, and in that same time, by some measures, inequality, poverty, and hunger have all risen.
We also see this plan in the idea that corporations have a fiduciary duty to grow their stock value for the sake of shareholder returns, which prevents even well-meaning CEO's from voluntarily doing anything good—like increasing wages or reducing pollution—that might compromise their bottom line.
Just look at the recent case involving American Airlines. Earlier this year, CEO Doug Parker tried to raise his employees salaries to correct for "years of incredibly difficult times" suffered by his employees, only to be slapped down by Wall Street. The day he announced the raise, the company's shares fell 5.8%. This is not a case of an industry on the brink, fighting for survival, and needing to make hard decisions. On the contrary, airlines have been raking in profits. But the gains are seen as the natural property of the investor class. This is why JP Morgan criticized the wage increase as a "wealth transfer of nearly $1 billion" to workers. How dare they?
What becomes clear here is that ours is a system that is programmed to subordinate life to the imperative of profit.
Read more at Fast Company.
One for the history book of iceberg disasters
Narrative ■ Almost yesterday, in our issue number 2, we reported the perilous state of a giant iceberg — perhaps the world's largest — hanging on by a thread by which it was tethered it to the glacier world of Antarctica. With no satisfaction for prescience, we report that it has now broken away and its trillion tons of ice (2,200 square miles, the size of the state of Delaware) are now on a wayward journey that can only factor into the eventual danger of a worldwide 10-foot rise in oceans endangering megacities "from Miami to Mumbai."
One of the largest icebergs ever recorded — measuring about the size of Delaware and containing a volume of ice twice the size of Lake Erie — has broken free from the Larsen C Ice Shelf in northwest Antarctica, according to scientists monitoring the region.
The iceberg weighs about a trillion tons, according to a team of researchers affiliated with a U.K.-based research project, known as Project MIDAS. While the iceberg calving event itself is likely mostly natural, it nevertheless threatens to speed up the already quickening pace of ice melt in the region due in large part to global warming.
The iceberg is about 2,200 square miles in area, or about the size of Delaware, Project MIDAS researchers said in a blog post on Wednesday morning. It will likely be designated "A68" by officials who track the movement of icebergs to avert shipping accidents.
"The calving of this iceberg leaves the Larsen C Ice Shelf reduced in area by more than 12 percent, and the landscape of the Antarctic Peninsula changed forever," the researchers wrote.
Scientists have watched since 2014 as a fissure in the ice carved out a slice of the Larsen C Ice Shelf as if someone were taking a giant X-Acto Knife to the ice.
"The iceberg is one of the largest recorded and its future progress is difficult to predict," says Adrian Luckman, a professor at Swansea University and lead investigator of the MIDAS project. "It may remain in one piece but is more likely to break into fragments. Some of the ice may remain in the area for decades, while parts of the iceberg may drift north into warmer waters."
The iceberg itself won't add to sea level rise, since it has already been floating in the water like an ice cube in a glass. But it may have significant consequences down the road by weakening the overall ice shelf and limiting its ability to hold back inland glaciers whose runoff does contribute to sea level rise.
The Larsen C Ice Shelf is located in the Antarctic Peninsula, which is one of the fastest-warming regions on Earth. While scientists have hesitated to pin this particular iceberg calving event to global warming specifically, the trends across parts of Antarctica, as well as the Arctic, are clear.
Ice shelves are retreating and weakening as sea and air temperatures climb, and mountain glaciers are speeding their path to the sea faster than predicted just several years ago. The result will be more significant and rapid sea level rise that will threaten the viability of coastal megacities, from Miami to Mumbai.
The Larsen C iceberg event has been one of the most closely-observed iceberg calving events in history, with data from a synthetic aperture radar aboard the European Space Agency's (ESA) Sentinel-1 satellite providing scientists with detailed observations of the motion of the sea and land ice in that region. Other ESA satellites and NASA platforms have also aided scientists in keeping track of this iceberg.
The radar onboard the Sentinel-1 satellite is able to detect subtle changes in ground movements and is used for both studying melting glaciers and ice shelves as well as earthquakes and other geological phenomena.
Scientists affiliated with a UK-funded research project known as Project Midas kept the closest tabs on the region, with researchers from NASA and other institutions also providing their expertise.
When viewed from the air, the fissure in Larsen C stretched all the way to the horizon, and was wide enough that you'd need a plane to cross it — with sections reaching at least 1,500 feet wide.
Read more at Mashable.
Detroit at crossroads 50 years later
Narrative ■ It's been 50 years since the riots that left 33 blacks and 10 whites killed, 1,400 buildings burned and 7,000 people arrested. At the time it was the fourth largest city in the U.S.; it's now 21st. A number of the societal problems that caused it then are still evident today.
DETROIT (AP) — Deborah Chenault Green is 62, a writer. But 50 years ago she was a pre-teen, sleeping on the porch to escape the oppressive heat, awakening to see a sky that glowed unnaturally. Azerine Jones is a retired baker. But in 1967 she was the 12-year-old daughter of a barber who watched his business go up in smoke.
Girard Townsend is 66 now, living in a seniors building near the Detroit waterfront. But a half century ago, he was just a kid on a city bus. The bus stopped near 12th and Clairmount streets. Townsend stepped off — and into the very start of the Detroit riot. "I saw all these guys with masks and shields," he said — city police officers, most of them white, far outnumbered by a seething black crowd. In the days that followed, he would witness — and take part in — an epic eruption of violence that still reverberates in his life and the life of this city.
Five days of violence would leave 33 blacks and 10 whites dead, and more than 1,400 buildings burned. More than 7,000 people were arrested. A decline that had already begun would accelerate; Detroit was the nation's fourth biggest city in 1960, but would rank 21st by 2016. The middle class fled, and a proud city fell into poverty, crime and hopelessness.
There are signs of rebirth in Detroit. But the men and women who lived through the riots are getting older, and most doubt they will live to see Detroit reclaim its former glory, when its very name was synonymous with American know-how and industry. "Detroit still hasn't come back to where it was," Townsend said sourly, sorting through 50 years of memories. Detroit wasn't the first of the riots in the summer of 1967, and it was far from the last. Buffalo, New York, and Newark, New Jersey, preceded it; in the course of the summer, more than 150 cases of civil unrest erupted across the United States.
Detroit's started after a July 23 police raid on an illegal after-hours' club — a "blind pig" — at 12th and Clairmount. The raid, though, was just the spark. Many in the community blamed frustrations blacks felt toward the mostly white police, and city policies that pushed families into aging and over-crowded neighborhoods. "We had a fear and kind of a hatred toward the police department," Green said. "They would harass people, especially young black men. Stop them for no reason. A lot of men and women were beaten. A lot of that led up to the city exploding."
When Gerard Townsend got off the bus that night, he stumbled into the immediate aftermath of the blind pig raid. By the next day, the riot was in full bloom: "I got up the next morning and the whole west side was on fire. Everything was burning. People were running around with clothes in their hands, TVs and all kinds of stuff." Townsend was among them. He made off with a television from a furniture store.
"We stole liquor and stuff," he said. "I watched it. I lived it. I was part of it."
Read more at AP.
Departing ethics chief: U.S. "close to a laughing stock"
Narrative ■ Walter M. Shaub Jr. made a valiant effort as head of the Office of Government Ethics to hold back the flood of violations brought on by the Trump administration, but lost. His verdict on the standing of the U.S. in the eyes of the world: "I think we are pretty close to a laughing stock."
WASHINGTON — Actions by President Trump and his administration have created a historic ethics crisis, the departing head of the Office of Government Ethics said. He called for major changes in federal law to expand the power and reach of the oversight office and combat the threat.
Walter M. Shaub Jr., who is resigning as the federal government's top ethics watchdog on Tuesday, said the Trump administration had flouted or directly challenged long-accepted norms in a way that threatened to undermine the United States' ethical standards, which have been admired around the world.
"It's hard for the United States to pursue international anticorruption and ethics initiatives when we're not even keeping our own side of the street clean. It affects our credibility," Mr. Shaub said in a two-hour interview this past weekend — a weekend Mr. Trump let the world know he was spending at a family-owned golf club that was being paid to host the U.S. Women's Open tournament. "I think we are pretty close to a laughing stock at this point."
Mr. Shaub called for nearly a dozen legal changes to strengthen the federal ethics system: changes that, in many cases, he had not considered necessary before Mr. Trump's election. Every other president since the 1970s, Republican or Democrat, worked closely with the ethics office, he said.
A White House official dismissed the criticism, saying that Mr. Shaub was simply promoting himself and had failed to do his job properly.
"Mr. Schaub's penchant for raising concerns on matters well outside his scope with the media before ever raising them with the White House — which happens to be his actual day job — is rather telling," Lindsay E. Walters, a White House spokeswoman, said in a statement that misspelled Mr. Shaub's name. "The truth is, Mr. Schaub is not interested in advising the executive branch on ethics. He's interested in grandstanding and lobbying for more expansive powers in the office he holds."
Mr. Trump's repeated trips to his family's business properties — he has visited one of them on at least 54 days since moving into the White House nearly six months ago, including nearly 40 stops at a family golf course — have caused discomfort for Mr. Shaub each time.
"It creates the appearance of profiting from the presidency," Mr. Shaub said. "Misuse of position is really the heart of the ethics program, and the internationally accepted definition of corruption is abuse of entrusted power. It undermines the government ethics program by casting doubt on the integrity of government decision making."
Read more at The New York Times.
As companies relocate urban, suburbs scramble
Narrative ■ McDonald's isn't the only major company responding to the siren call of a metropolis. Blame a lot of it on all those people who invented computers and the e-commerce economy that has followed.
OAK BROOK, Ill. — Visitors to the McDonald's wooded corporate campus enter on a driveway named for the late chief executive Ray Kroc, then turn onto Ronald Lane before reaching Hamburger University, where more than 80,000 people have been trained as fast-food managers.
Surrounded by quiet neighborhoods and easy highway connections, this 86-acre suburban compound adorned with walking paths and duck ponds was for four decades considered the ideal place to attract top executives as the company rose to global dominance.
Now its leafy environs are considered a liability. Locked in a battle with companies of all stripes to woo top tech workers and young professionals, McDonald's executives announced last year that they were putting the property up for sale and moving to the West Loop of Chicago where "L" trains arrive every few minutes and construction cranes dot the skyline.
In Chicago, McDonald's will join a slew of other companies — among them food conglomerate Kraft ­Heinz, commodities giant ADM and telecommunications firm Motorola Solutions — all looking to appeal to and be near young professionals versed in the world of e-commerce, software analytics, digital engineering, marketing and finance.
Such relocations are happening across the country as economic opportunities shift to a handful of top cities and jobs become harder to find in some suburbs and smaller cities.
Chicago Mayor Rahm Emanuel (D) said the old model where executives chose locations near where they wanted to live has been upturned by the growing influence of technology in nearly every industry. Years ago, IT operations were an afterthought. Now, people with such expertise are driving top-
level corporate decisions, and many of them prefer urban locales.
"It used to be the IT division was in a back office somewhere," Emanuel said. "The IT division and software, computer and data mining, et cetera, is now next to the CEO. Otherwise, that company is gone."
The migration to urban centers threatens the prosperity outlying suburbs have long enjoyed, bringing a dose of pain felt by rural communities and exacerbating stark gaps in earnings and wealth that Donald Trump capitalized on in winning the presidency.
McDonald's may not even be the most noteworthy corporate mover in Illinois. Machinery giant Caterpillar said this year that it was moving its headquarters from Peoria to Deerfield, which is closer to Chicago. It said it would keep about 12,000 manufacturing, engineering and research jobs in its original home town. But top-
paying office jobs — the type that Caterpillar's higher-ups enjoy — are being lost, and the company is canceling plans for a 3,200-person headquarters aimed at revitalizing Peoria's downtown.
"It was really hard. I mean, you know that $800 million headquarters translated into hundreds and hundreds of good construction jobs over a number of years," Peoria Mayor Jim Ardis (R) said.
Long term, the corporate moves threaten an orbit of smaller enterprises that fed on their proximity to the big companies, from restaurants and janitorial operations to subcontractors who located nearby.
Read more at Washington Post.
The mayors who might be President
Narrative ■ It's a big jump from being a mayor to being President, but there are an increasing number of such contenders out there. You'll be hearing more about Eric Garcelli, who's in his second term in Los Angeles (backed by an 81% vote) and would be the first Hispanic chief executive, the first of Jewish extraction with a Rhodes scholarship background as well. He's now contending with Paris for Olympic games. But he's only one among 11 that this story ranks as exceptional.
At a time when one yellow-haired, Twitter-happy personality dominates American discourse, it's easy to forget how much political energy—and important new thinking—emanates not from the nation's capital but from city hall. We surveyed dozens of national and local political junkies, and came up with 11 leaders who are compelling for the fights they are waging, their personal backstories and how they are transforming their cities, often without Washington. Plus: Seven more to watch.
Back in 1984, when he was mayor of San Antonio and a rising star in the Democratic Party, Henry Cisneros got a final-round interview to be Walter Mondale's presidential running mate. Mondale decided against it: It was a little too much for a local official to make the leap right onto the national stage.
It's early still, but many top Democrats have started assuming Los Angeles Mayor Eric Garcetti will skip that step entirely and run for president himself in 2020. Garcetti has helped fan that speculation, already talking to strategists and big donors about the prospect. And it helps that, as cities step up their resistance to President Donald Trump, Garcetti has been able to jump into the national debate on issues like immigration, health care and infrastructure.
"My main job, and my overwhelming job, starts with my family, my street, my neighborhood and my city," Garcetti told Politico's Off Message podcast in May. "But I'm playing too much defense in my backyard to not get involved in the national discussion."
If Garcetti runs for president, he wouldn't just make history as a rare sitting mayor to do so. He also has the potential to be the first Hispanic and the first Jewish president. Garcetti is the 46-year-old grandson of an undocumented immigrant from Mexico, and the son of a former L.A. district attorney—Gil Garcetti, of O.J. Simpson trial fame—and a mother whose parents were Jewish immigrants from Russia. The mayor can order his bagel and lox, which he loves, in fluent Spanish. He was also a Rhodes Scholar and a Navy Reserve intelligence officer, and likes to tell stories about the time in high school when he traveled to Ethiopia to deliver medical supplies.
As mayor, Garcetti has successfully pushed for tax increases to fund a mass transit plan and more housing for the homeless, and he won a second term this year with 81 percent of the vote. His big project over the next few months is landing the Olympic Games in 2024 or 2028. The choice is expected in September, and Garcetti is putting off any decision about his political future until after that. There's an open governor's race in California next year, but people close to Garcetti don't think that's where his heart is, especially if he can go straight to a White House run. There's also the chance of an open Senate seat if Dianne Feinstein retires, but that job doesn't seem to fit Garcetti's personality or his experience being the man in charge.
Read more at Politico.
Teleportation: photons today, humans tomorrow?
Narrative ■ Remember Star Wars, in which one person or another was being beamed (transported) from here to there? There are echoes of that possibility in the news that the Chinese say they've successfully sent a photon from Earth to a satellite 870 miles away. Don't get too excited. First they have to get past quantum entanglement. Read on.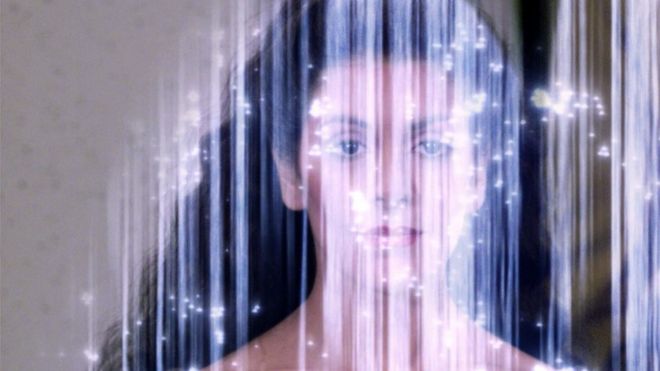 Chinese scientists say they have "teleported" a photon particle from the ground to a satellite orbiting 1,400km (870 miles) away. For many, however, teleportation evokes something much more exotic. Is a world previously confined to science fiction now becoming reality?
Well, sort of. But we are not likely to be beaming ourselves to the office or a beach in the Bahamas anytime soon. Sorry.
How does it work?
Simply put, teleportation is transmitting the state of a thing rather than sending the thing itself. Some physicists give the example of a fax machine – it sends information about the marks on a piece of paper rather than the paper itself. The receiving fax machine gets the information and applies it to raw material in the form of paper that is already there.
What it is not is teleportation in the Star Trek sense – transferring matter instantly from one location to another – which is how many instinctively see it. Instead, it relies on a phenomenon known as quantum entanglement.
What is quantum entanglement?
Indeed. The phenomenon arises when two particles are created at the same time and place and so effectively have the same existence. This entanglement continues even when the photons are then separated. It means that if one of the photons changes, the other photon in the other location changes too. Prof Sandu Popescu, from Bristol University, has been working on quantum entanglement since the 1990s.
"Even then people were thinking about Star Trek. But we are talking about sending the state of a single particle, not the billions of billions of billions of particles that form a person," he says. "If you are thinking about a remote planet, first you would have to exchange billions of entangled pairs of particles and then you have to send other information as well. This is highly non-trivial. One should not get excited by that."
Read more at the BBC.