Who is the Puerto Rico mayor standing up to Trump?
Narrative ■ Her name is Carmen Yulin Cruz Soto. She's 54 years old, the mayor of San Juan in Puerto Rico and now an international hero who stood up to Donald Trump to fight for her people by crying out: "If anyone out there is listening to us, we are dying." They were, and it isn't clear that the U. S. was listening.
Carmen Yulín Cruz Soto, the mayor of Puerto Rico's capital of San Juan, garnered international attention this weekend after she pleaded to President Trump and his administration to send more help to the US territory in the wake of the devastation caused by Hurricane Maria. Trump rebuked her, saying Puerto Ricans wanted everything done for them, and that Cruz showed "poor leadership ability."
However, the 54-year-old mayor is emerging as a passionate political force. Cruz, who has been living in a shelter after her home was destroyed in the hurricane, is at the forefront of efforts to help Puerto Rico recover from the destruction created by the storm more than a week ago. She has toured the US news circuit, raising awareness about the island's dire condition, and on Friday (Sept. 29) Cruz held a press conference at the Roberto Clemente Coliseum, which is being used as a government center and holds some supplies, and made this desperate plea for help:
I will do what I never thought I was going to do: I am begging. I am begging anyone that can hear us to save us from dying. If anybody out there is listening to us, we are dying. And you are killing us with the inefficiency and bureaucracy. We will make it with or without you because what stands behind me is all due to the generosity of other people.
On Saturday, she responded to Trump's tweeted comments, saying, "It's not about politics, it's not about petty comments, it's about moving forward, putting boots on the ground and saving lives." She also said that aid from various sources had increased to Puerto Rico on Saturday morning. "It's a good start," she said but a lot more still needs to be done. Cruz also tweeted this morning to clarify that there is one goal: to save lives.
Read more at Quartz.
When "not guilty" is a life sentence
Narrative ■ The subject that most motivates New Times Always! is change, or the lack of it. That includes injustice in the legal system, extending as well to the mentally ill. This is what's been going on when we weren't looking.
Despite Ann's determination to betray no emotion, a drop of sweat rolled down her temple as a guard painstakingly examined her lunch items. That Sunday morning, she had taken two buses, two trains and a shuttle to get from her home to the New York state psychiatric facility where her son is confined. Frustrated, she pushed back a little, but just a little, when the guard took away two sealed bottles of fruit-flavored water, a special treat that Ann had made an extra stop to buy. She watched as he held them up to examine them and concluded that they must contain caffeine — which is not allowed — because they did not read, "Does not contain caffeine."
"They're testing you," she said to her son, James, after she was finally cleared, metal-detected and led upstairs to the visiting room, a spare, linoleum-floored space inside the hospital's high-security building. Ann, who asked that her nickname and her son's middle name be used to protect their privacy, usually comes to see James three times a week. Obstacles like these are routine. James, a middle-aged white man with thinning hair and a thickening waistline, listened to her complaints in a routine way, too, glancing up from the newspaper his mother had brought, the two of them sitting at a table, the same arch in their brown eyebrows, eating homemade coleslaw and sandwiches. They've been doing this a long time.
At some point in the next five hours — while the three of us ate lunch, and dessert, and later snacks between rounds of Bananagrams and Kings in the Corner — James said to me, "I shouldn't have taken the plea."
By the time of the arrest that would lead to James's confinement here, he had already been hospitalized multiple times for threatening to kill himself. His problems stemmed, he said, from being sexually abused by his stepfather. But he had held down jobs — at a pizza shop, banquet setup in hotels — and after an intellectual disability was diagnosed, he and his mother say, he ran track and field in the Special Olympics, competing in Minnesota, Colorado, Germany and London. When I asked what charge, exactly, led to his arrest, he lowered his voice and said: "rape." His mother added that a kidnapping count was "tacked on."
In 1996, when James was 20, the police responded to a frantic 911 call near the house where he lived with his mother. At the scene, the officers found a woman bloodied and in distress. She said that James had lured her inside for a housekeeping interview — and that he'd been screaming when he started ripping her clothes off and beating her. The cops later picked him up at his grandmother's house, a few miles away. At the police station, James signed a statement saying he understood his rights. He waived the right to representation. He signed a confession. (He and his mother now claim that the confession was coerced and that he is innocent.) When doctors subsequently evaluated him, they found him so unstable that they ruled him incompetent to stand trial. He was remanded to a hospital for several months, then sent back to jail, where he regressed again, then sent back to the hospital for several more months, stabilized once again, then sent back to jail, where in preparation for his trial, he was returned to the hospital to be evaluated for mental illness. Doctors diagnosed borderline-personality disorder, his mother says — which enabled him to plead "not responsible by reason of insanity."
James says that he understood the plea he took. In the abstract sense, he did. But the specifics of it were as mysterious to him and his family as they are to most people. Before he was arrested, James and his mother were set to move to Georgia, where they had relatives, and where Ann had friends and a job lined up. After his plea deal, Ann says, she "put everything on hold," for what she thought would be a few years.
Instead, James, now in his 40s, has been in the hospital for almost two decades. This isn't because he was sentenced to 20 years, or to 25. He was not sentenced at all; he is technically, legally, not responsible. The court believes beyond a reasonable doubt that he committed the act he was accused of, a prerequisite for the state to accept an insanity plea. The plea does not, however, prescribe or limit the duration of his stay. The laws that govern the practice of committing people who are acquitted because of mental illness dictate that they be hospitalized until they're deemed safe to release to the public, no matter how long that takes.
Read more at The New York Times Magazine.
When working from home doesn't work
Narrative ■ This is a pendulum most thought would never swing back: the trend to outsourcing work and the locations in which it was done. Now a company largely responsible for the trend is leading the resistance.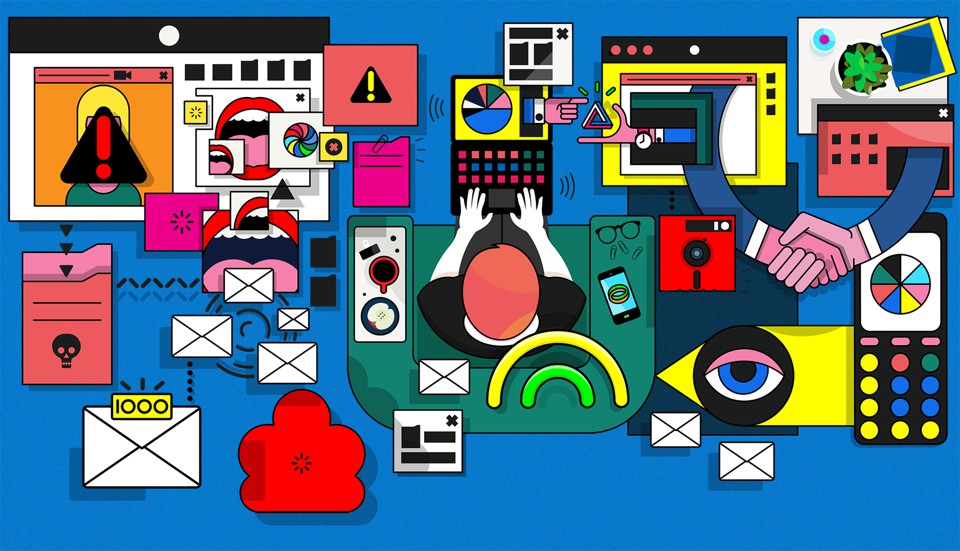 In 1979, IBM was putting its stamp on the American landscape. For 20 years, it had been hiring the greats of modernism to erect buildings where scientists and salespeople could work shoulder-to-shoulder commanding the burgeoning computer industry. But that year, one of its new facilities—the Santa Teresa Laboratory, in Silicon Valley—tried an experiment. To ease a logjam at the office mainframe, it installed boxy, green-screened terminals in the homes of five employees, allowing them to work from home.
The idea of telecommuting was still a novelty. But this little solution seemed effective. By 1983, about 2,000 IBMers were working remotely. The corporation eventually realized that it could save millions by selling its signature buildings and institutionalizing distance work; the number of remote workers ballooned. In 2009, an IBM report boasted that "40 percent of IBM's some 386,000 employees in 173 countries have no office at all." More than 58 million square feet of office space had been unloaded, at a gain of nearly $2 billion. IBM, moreover, wanted to help other corporations reap the same officeless efficiencies through its consulting services. Leading by example was good marketing.
Then, in March of this year, came a startling 
announcement
: IBM wanted thousands of its workers back in actual, physical offices again.  The reaction was generally unsparing. The announcement was depicted, variously, as the desperate move of a company whose revenues had fallen 20 quarters in a row; a veiled method of shedding workers; or an attempt to imitate companies, like Apple and Google, that never embraced remote work in the first place. "If what they're looking to do is reduce productivity, lose talent, and increase cost, maybe they're on to something," says Kate Lister, the president of Global Workplace Analytics, which measures (and champions) working from home.IBM might have seen this coming. A similarly censorious reaction greeted Yahoo when it reversed its work-from-home policy in 2013. Aetna and Best Buy have taken heat for like-minded moves since. That IBM called back its employees anyway is telling, especially given its history as "a business whose business was how other businesses do business." Perhaps Big Blue's decision will prove to be a mere stumble in the long, inevitable march toward remote work for all. But there's reason to regard the move as a signal, however faint, that telecommuting has reached its high-water mark
—
and that more is lost in working apart than was first apparent.
The genius of the Playboy interview
Narrative ■ There was literary merit and journalistic innovation behind all those interviews alongside the centerfolds in the magazine world of Hugh Hefner and Playboy. Who are we to dispute it.
Hugh Hefner (who died at 91 on September 27th) was a complicated individual whose notions of sexuality and human relationships were at once woke and predatory, who stumbled upon a brilliant idea at a time when American culture was milquetoast. A loss of identity in the 1950s, particularly among men, was palpable for a generation who no longer had a war to fight. It took a magazine that paired the mind and the body, high culture and naked women, to shake the male from his slumber.
Since the magazine's founding, the joke "I read it for the articles" was always tongue in cheek. Yes, Playboy did publish some of the country's most celebrated writers. No, the articles weren't all great. Playboy was rather conservative in which stories made it past final proof. The magazine paid well — fantastically so for freelancers — and so the best and the brightest of the typewriter set clamored for decades to get between Playboy's covers.
But what truly set Playboy apart from the Esquires, Saturday Evening Posts, and Rolling Stones was its interviews: Thousands and thousands of words spilled from some of America's greatest activists, thinkers, and celebrities. As Hefner explained in an editorial for Playboy's inaugural issue in 1953, which offered a never-before seen set of nude Marilyn Monroe photos, "We enjoy mixing up cocktails and an hors d'oeuvre or two, putting a little mood music on the phonograph and inviting in a female acquaintance for a quiet discussion on Picasso, Nietzsche, jazz, sex." To live life with a diverse set of interests fascinated Hefner, and he banked on it fascinating millions of American men. It was that diverse intersection that Hefner hoped to exploit with the Playboy interview.
Hefner didn't launch the format until about a decade after the magazine's founding, following the closure of Show Business Illustrated. According to G. Barry Colson, the magazine's executive editor, who edited the 1981 anthology The Playboy Interview, writers often came back with at least six hours of taped conversations; it wasn't unusual for a writer to submit twenty hours of recordings for transcription. The hours-long chats revolutionized the idea of the magazine interview.
The series began with Miles Davis, who spoke with Alex Haley only after the writer spent hours tailing Davis, eventually boxing with him at a gym in Harlem. From the start, subjects were leery of appearing in the magazine. (Some of the early interviews featured European intellectuals like Jean-Paul Sartre and Bertrand Russell.) It wasn't until the mid-1960s, and certainly into the '70s, when the Playboy interview was viewed as a cultural imprimatur. Playboy featured some of the most important figures of the day, including Martin Luther King Jr, Malcolm X, and Walter Cronkite, and appearing on the magazine's pages guaranteed their words and message would reach an audience who might otherwise miss the point.
Read more at Longreads.
Narrative ■ For the benefit of those who don't read to the end of this story about why partners in otherwise happy marriages still find themselves straying, we're putting the climax at the beginning: "Often when a couple comes to me in the wake of an affair, it is clear to me that their first marriage is over. So I ask them: Would you like to create a second one together?"
Most descriptions of troubled marriages don't seem to fit my situation," Priya insists. "Colin and I have a wonderful relationship. Great kids, no financial stresses, careers we love, great friends. He is a phenom at work, fucking handsome, attentive lover, fit, and generous to everyone, including my parents. My life is good." Yet Priya is having an affair. "Not someone I would ever date—ever, ever, ever. He drives a truck and has tattoos. It's so clichéd, it pains me to say it out loud. It could ruin everything I've built."
Priya is right. Few events in the life of a couple, except illness and death, carry such devastating force. For years, I have worked as a therapist with hundreds of couples who have been shattered by infidelity. And my conversations about affairs have not been confined within the cloistered walls of my therapy practice; they've happened on airplanes, at dinner parties, at conferences, at the nail salon, with colleagues, with the cable guy, and of course, on social media. From Pittsburgh to Buenos Aires, Delhi to Paris, I have been conducting an open-ended survey about infidelity.
Adultery has existed since marriage was invented, yet this extremely common act remains poorly understood. Around the globe, the responses I get when I mention infidelity range from bitter condemnation to resigned acceptance to cautious compassion to outright enthusiasm. In Paris, the topic brings an immediate frisson to a dinner conversation, and I note how many people have been on both sides of the story. In Bulgaria, a group of women I met seem to view their husbands' philandering as unfortunate but inevitable. In Mexico, women I spoke with proudly see the rise of female affairs as a form of social rebellion against a chauvinistic culture that has long made room for men to have "two homes," la casa grande y la casa chica—one for the family, and one for the mistress. Infidelity may be ubiquitous, but the way we make meaning of it—how we define it, experience it, and talk about it—is ultimately linked to the particular time and place where the drama unfolds.
Read more at The Atlantic.
Saudi Arabia to allow women to drive
Narrative ■ We confess to being among those who didn't know it had been forbidden. That this development is such big news is indicative of how great the repression of women has been in that part of the world. The latest footnote: Uber's already trying to recruit them.
Women in Saudi Arabia are to be allowed to drive – ending a law which made the Gulf nation the only country in the world to forbid female drivers.
On Twitter, the news was being celebrated widely.
The change, which will not happen immediately, was announced on state television and in a simultaneous media event in Washington.
It highlights the damage that the policy has done to the kingdom's international reputation and its hopes for a public relations benefit from the reform.
Campaigners have for many years argued that women should be allowed to drive, saying that it makes virtual prisoners out of women who do not have a male family member or chauffeur to drive them around.
In June 2011, about 40 women got behind the wheel and drove in several cities in a protest sparked when Manal Sharif, one of the founders of the movement, was arrested and detained for 24 hours after posting a video of herself driving.
Another was arrested and sentenced to 10 lashes – a sentence later overturned by the king – and the rest were told to sign statements guaranteeing they would not drive again.
In October 2013, shortly after a prominent cleric claimed that medical studies showed driving damaged a woman's ovaries, 60 women took part in a protest, driving in spite of warnings from the authorities.
Read more at Telegraph.
Capitalism has been on a suicide mission for 40 years
Narrative ■ Stories about the waning influence of capitalism are appearing with increasing frequency these days. Just in case there's more going on than we've realized, here's another.
On August 2, 2017, the Dow Jones Industrial Average hit a record-breaking 22,000—its fourth 1,000-point advance in less than a year. That same day, I read the first sentence in Peter Georgescu's new book, Capitalists Arise! End Economic Inequality, Grow the Middle Class, Heal the Nation: "For the past four decades, capitalism has been slowly committing suicide."
How does Georgescu, the chairman emeritus of Young & Rubicam (Y&R) and a 1963 graduate of Stanford Graduate School of Business, reconcile the Dow's ascent with his gloomy assertion?
"The stock market has nothing to do with the economy per se," he says. "It has everything to do with only one thing: how much profit companies can squeeze out of the current crop of flowers in the garden. Pardon the metaphor. But that's what corporations do—they squeeze out profits."
In the latter half of the 1990s, Georgescu shepherded Y&R through a global expansion and an IPO. He has served on the boards of eight public companies, including Levi Strauss, Toys "R" Us, and International Flavors & Fragrances. He also is the author of two previous books, The Constant Choice: An Everyday Journey from Evil Toward Good and The Source of Success. An Advertising Hall of Fame inductee, the 78-year-old adman is still pitching corporate leaders. Now, however, he is trying to convince them to fundamentally rethink how—and for whom—they run their companies.
The fault lines in capitalism
Capitalism is an endangered economic system, Georgescu says. He sees a dearth of demand across the global economy, even as American corporations record their highest profits ever. "How does this magic happen?" he asks rhetorically. "You engineer it. You buy back your stock at 4% and change. Your earnings per share go up and the market says, 'We like that.'"
What does he mean? He cites the seminal research by economist William Lazonick, who studied S&P 500 companies from 2003 to 2012 and discovered that they routinely spend 54% of their earnings buying back their own stock (reducing the number of outstanding shares and driving up share prices) and 37% of their earnings on dividends—both of which benefit shareholders. That leaves just 9% of earnings for investment in their business and their people.
This financial legerdemain obscures two fundamental fault lines in capitalism, and particularly in the US economy, according to Georgescu. The first is a lack of investment by companies in their own futures. "Our companies are not competitive because they don't invest in themselves," he says. "Total R&D investment is down. Total basic research, which is the precursor of innovation, is down dramatically. Investment in infrastructure has fallen to critical levels."
The second fault line is the lack of investment by companies in their employees. "Innovation is the only real driver of success in the 21st century, and who does the innovation? Our employees. How are we motivating them? We treat them like dirt. If I need you, I need you. If I don't, you're out of here. And I keep your wages flat for 40 years," says Georgescu, who points out that growth in real wages has been stagnant since the mid-1970s.
Read more at Quartz.
Academics turn to sex work and sleeping in cars
Narrative ■ In a time of great affluence, there's a lot more poverty than should be rightly due. The following account is in keeping with our duty to call your attention to the seamier side of life in the 21st century.
There is nothing she would rather do than teach. But after supplementing her career with tutoring and proofreading, the university lecturer decided to go to remarkable lengths to make her career financially viable.
She first opted for her side gig during a particularly rough patch, several years ago, when her course load was suddenly cut in half and her income plunged, putting her on the brink of eviction. "In my mind I was like, I've had one-night stands, how bad can it be?" she said. "And it wasn't that bad."
The wry but weary-sounding middle-aged woman, who lives in a large US city and asked to remain anonymous to protect her reputation, is an adjunct instructor, meaning she is not a full-time faculty member at any one institution and strings together a living by teaching individual courses, in her case at multiple colleges.
"I feel committed to being the person who's there to help millennials, the next generation, go on to become critical thinkers," she said. "And I'm really good at it, and I really like it. And it's heartbreaking to me it doesn't pay what I feel it should."
Sex work is one of the more unusual ways that adjuncts have avoided living in poverty, and perhaps even homelessness. A quarter of part-time college academics (many of whom are adjuncts, though it's not uncommon for adjuncts to work 40 hours a week or more) are said to be enrolled in public assistance programs such as Medicaid.
They resort to food banks and Goodwill, and there is even an adjuncts' cookbook that shows how to turn items like beef scraps, chicken bones and orange peel into meals. And then there are those who are either on the streets or teetering on the edge of losing stable housing. The Guardian has spoken to several such academics, including an adjunct living in a "shack" north of Miami, and another sleeping in her car in Silicon Valley.
The adjunct who turned to sex work makes several thousand dollars per course, and teaches about six per semester. She estimates that she puts in 60 hours a week. But she struggles to make ends meet after paying $1,500 in monthly rent and with student loans that, including interest, amount to a few hundred thousand dollars. Her income from teaching comes to $40,000 a year. That's significantly more than most adjuncts: a 2014 survey found that the median income for adjuncts is only $22,041 a year, whereas for full-time faculty it is $47,500.
Read more at The Guardian.